I have a collection of bought and DIY'd antennas
Transmit Antennas
VHF/UHF/SHF
Diamond D-190 discone for 70cm upwards with 2m whip

TX possible on 2m, 70cm.
RX hampered by bad RG58 cables with PL connectors.

Ground plane 2m/70cm build from BNC socket and solid wire
Ground plane 2m/70cm build from BNC socket copper plate and copper welding rods
LogPer 2m/70cm design by OE3MZC (build instructions) (defunct)
Yagi 2m design by DK7ZB

used for contesting in 2022, works great. 70cm too.

Yagi 70cm design by DK7ZB (incomplete)
2 POTY feeds for 2.4GHz QO-100
wlan grid 90cm for 2.4GHz 90cm
wlan yagi for 2.4GHz
Arrow Antenna 146/437-10BP w/Duplexer (to be tesed)
HF
I prefer resonant antennas, as my radio do not come with antenna tuners build in. I possess a MFJ Deluxe Versatuner 2, but that's tedious to operate in the field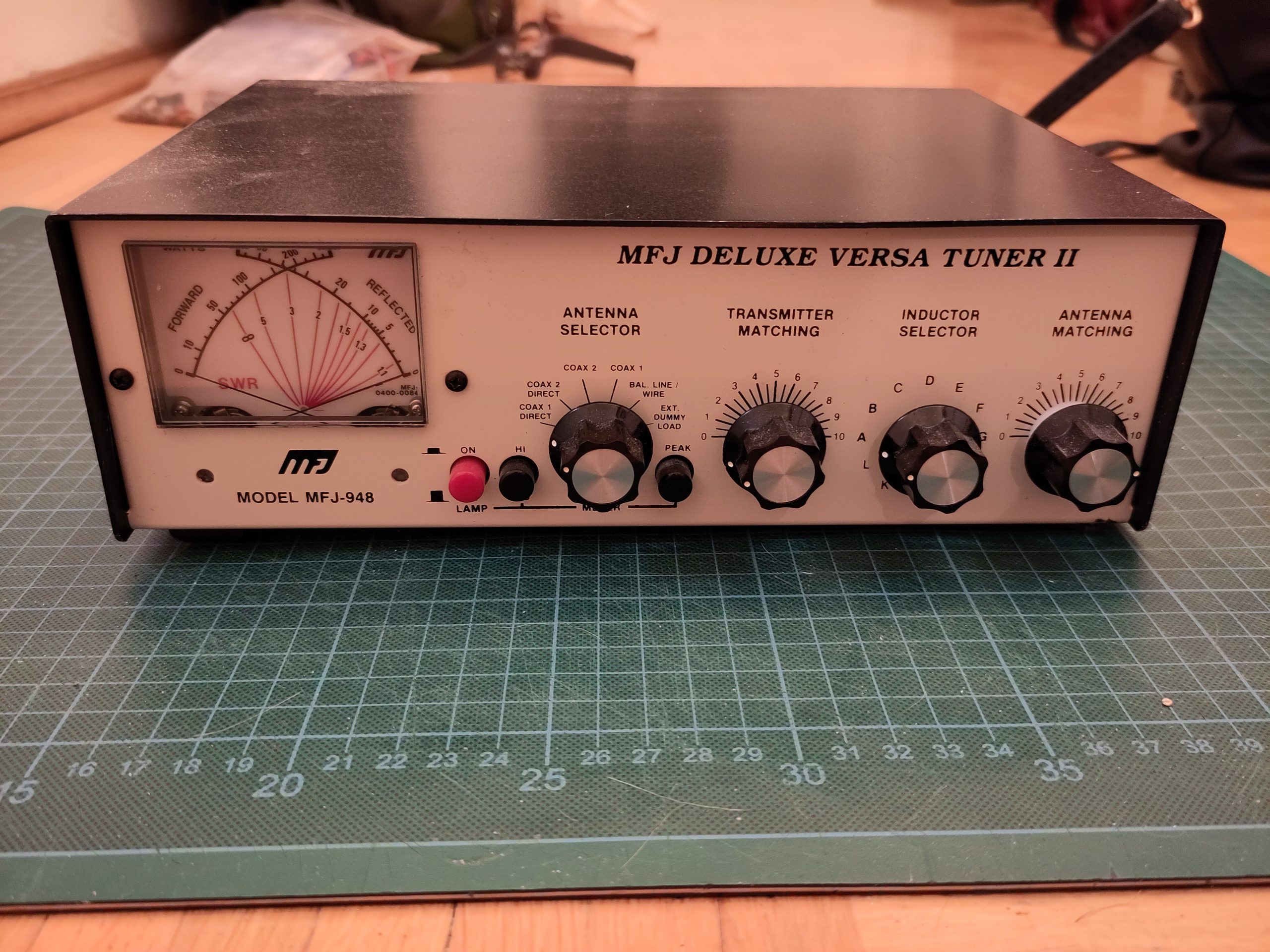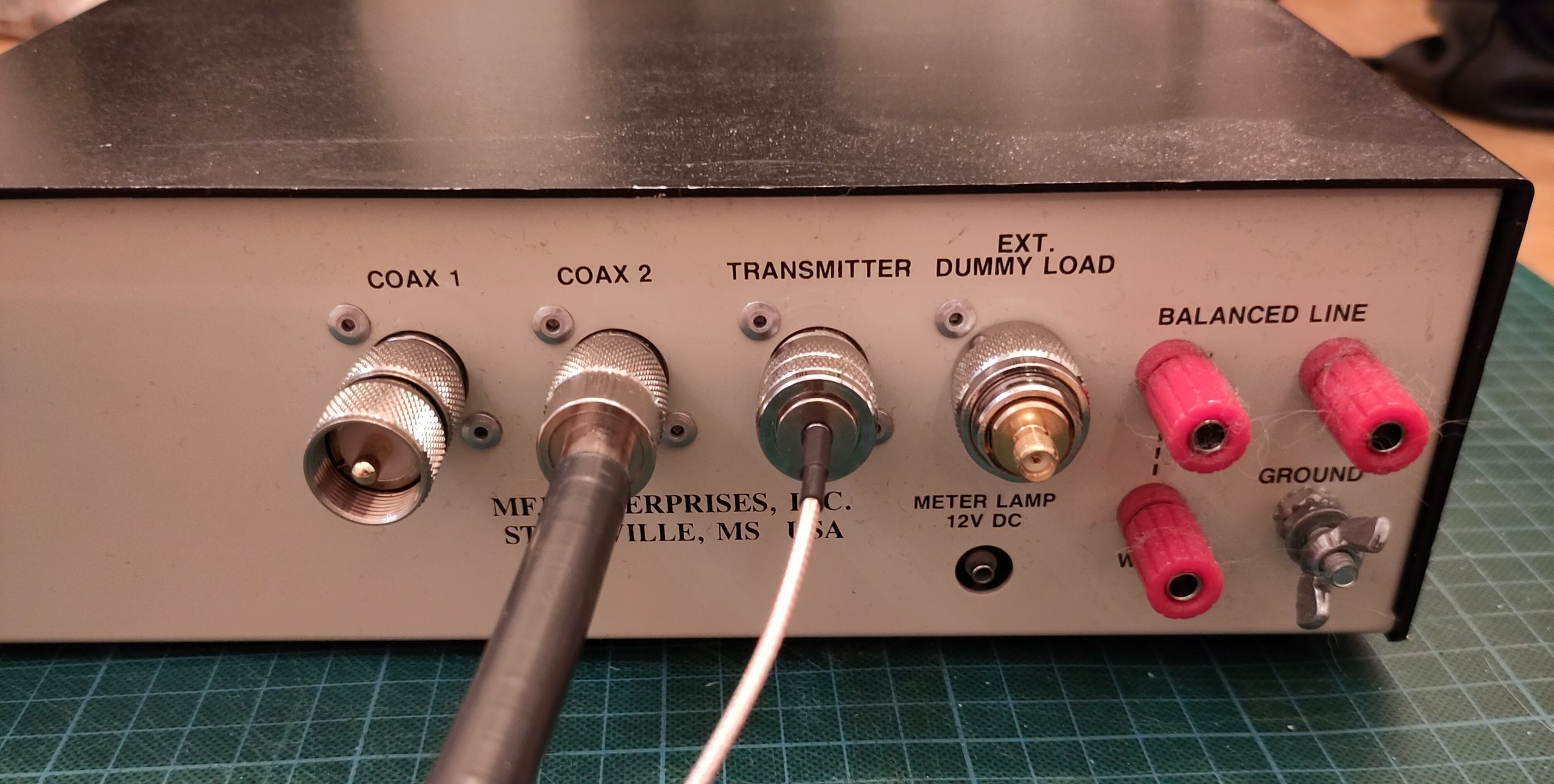 There is a partially assembled AT-100 kit, but that's for another day.
I tend to use 1:1 (choke) baluns at the feed points and and for noise suppression at the transeiver.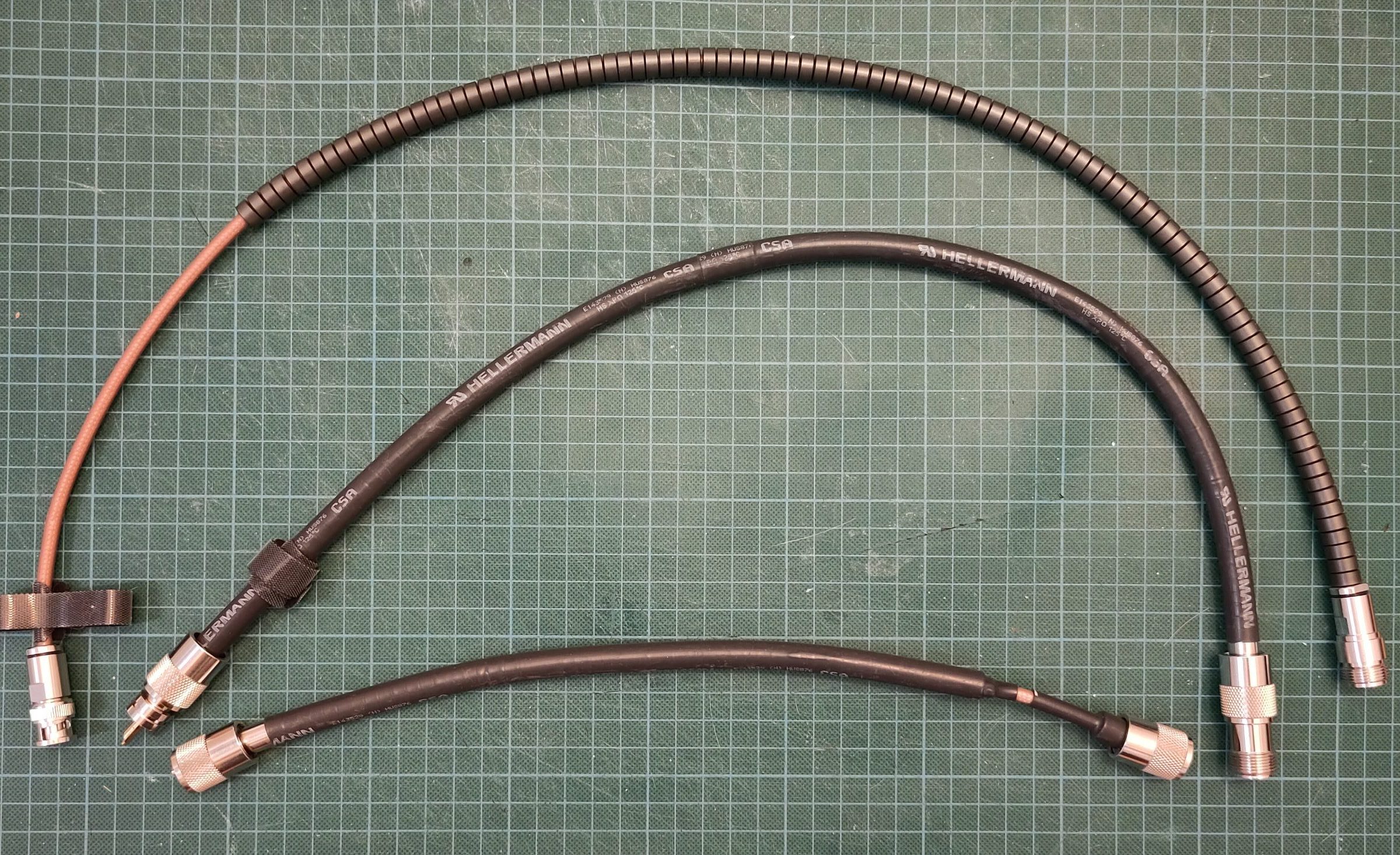 ZS6BKW
Resonant multiband designed by ZS6BKW, derived from GR5V.
13.75m dipol wires, 12.22m + x Wireman CQ-553 as depiced in this build instruction by DL9NBJ.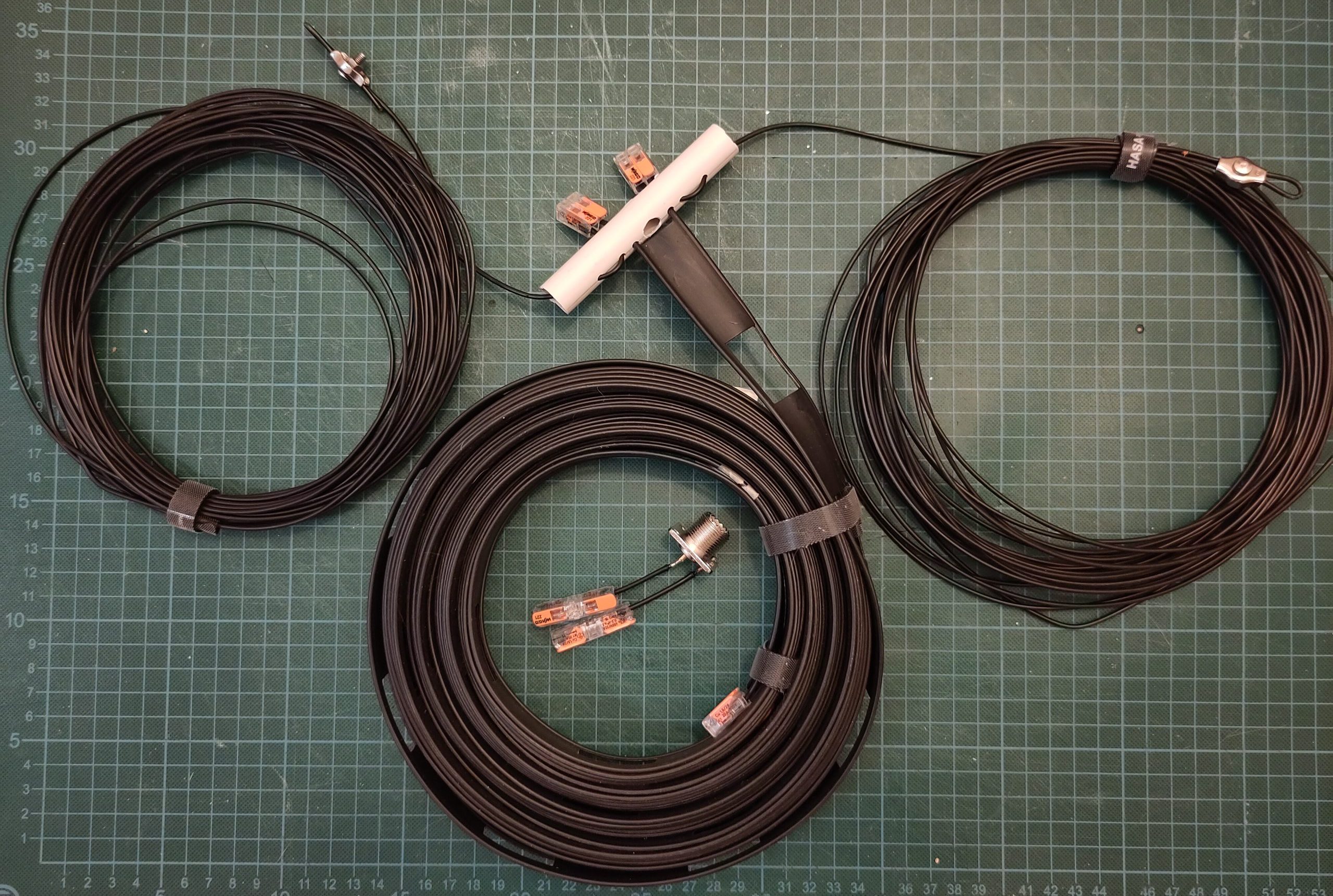 EFHW
end-fed half wave dipole. Basically un-un with a 3 to 21/24 turn ratio resulting in a 1:49 / 1:64 impedance transformation. Optional counter-poise connected to the balkony or portable, a run of 6m coax to the transceiver.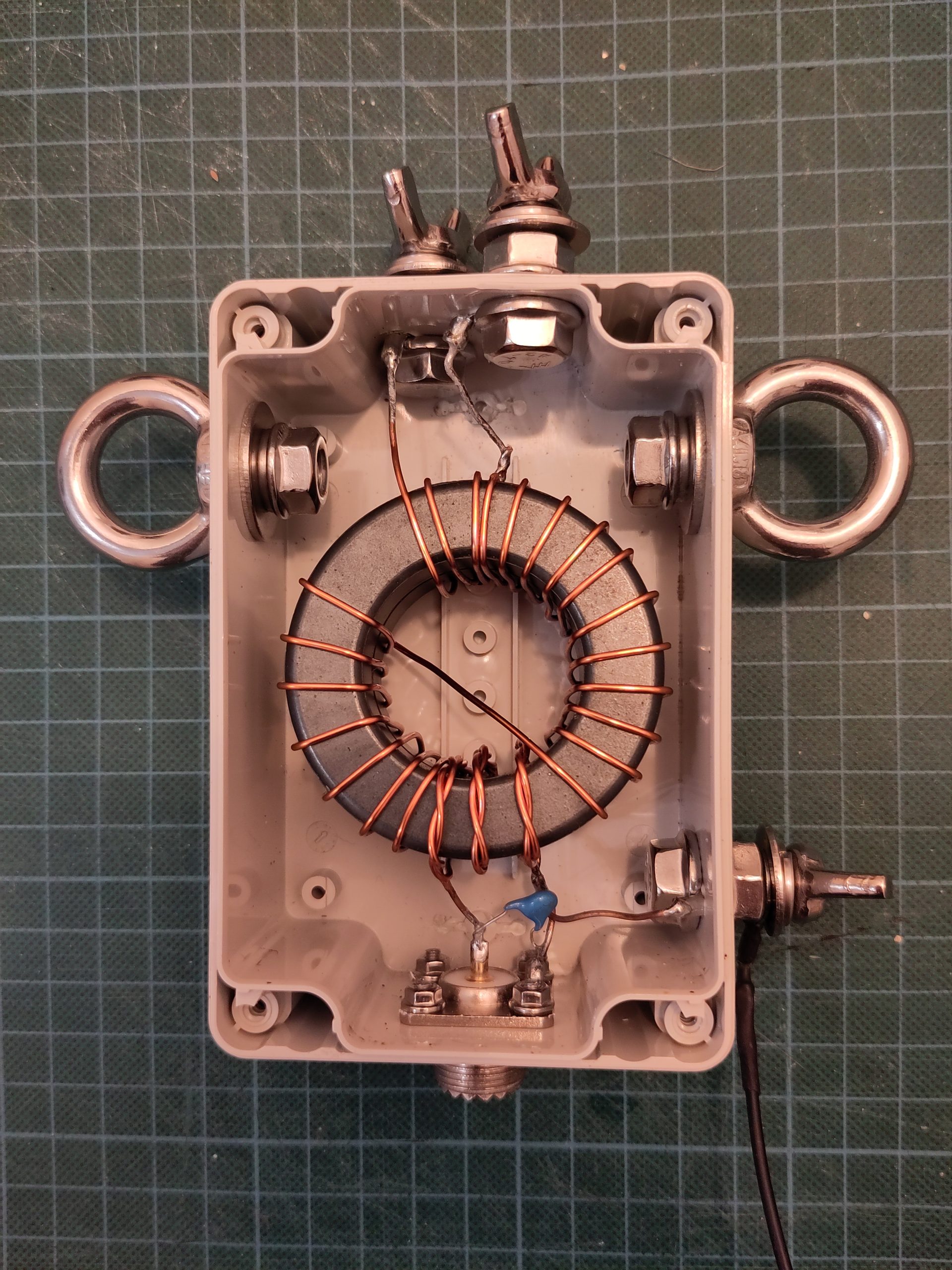 Used with various wires on
80m band and higher (40m wire)
20m band (10m wire)
10m band (5m wire)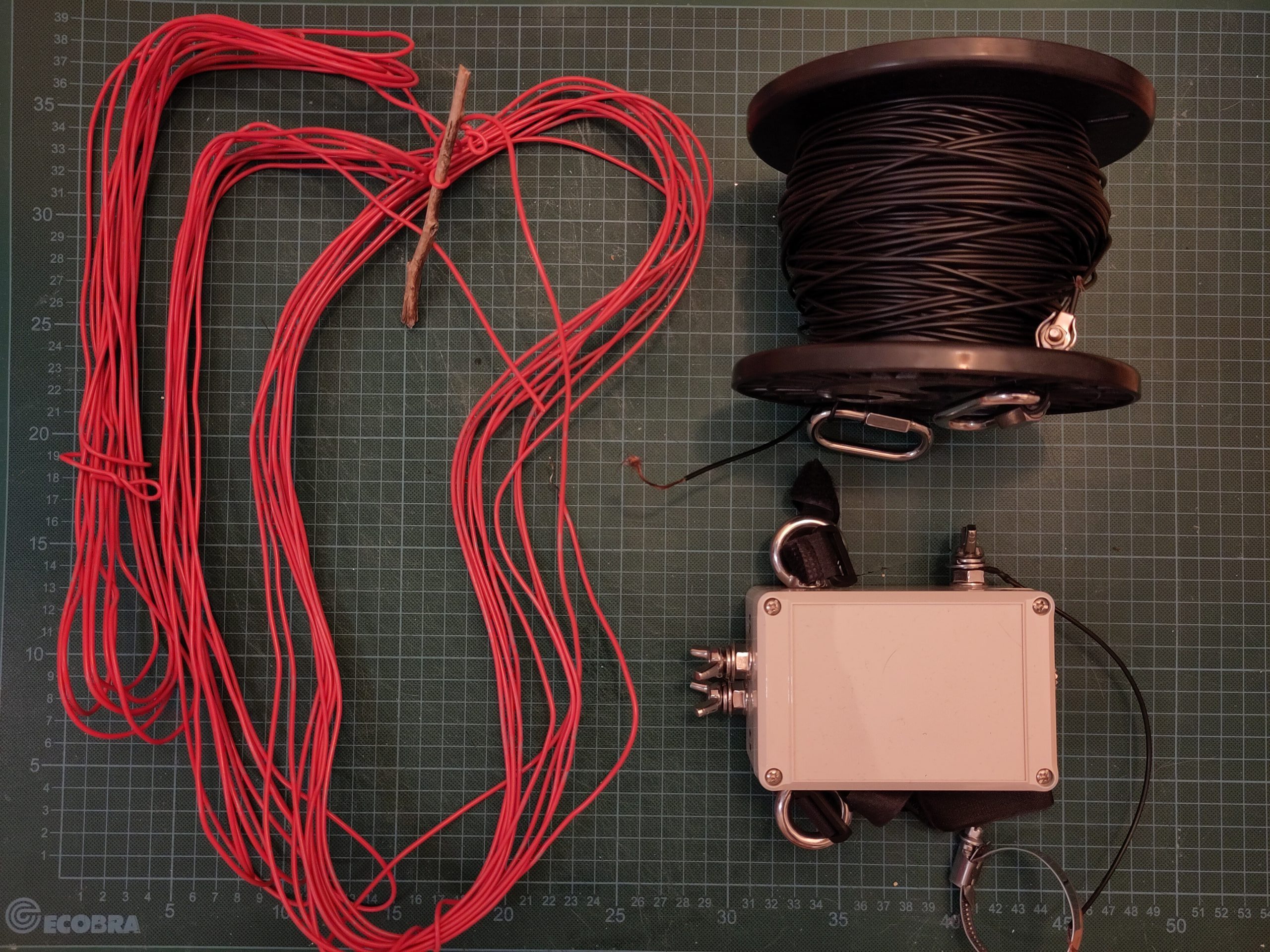 Ground plane collection 10m and lower
A basic 10m ground plane with optional wire extentions to 12m, 15m, 17m, …
Not in view: choke balun (1:1) in the feed point.
Some success in 10m contest on 2022-01-07, but tuning was way to low.
Moxxon for 6m
good results, but disassemled
Receive Antennas
Magnetic Antennas
Youloop passive magnetic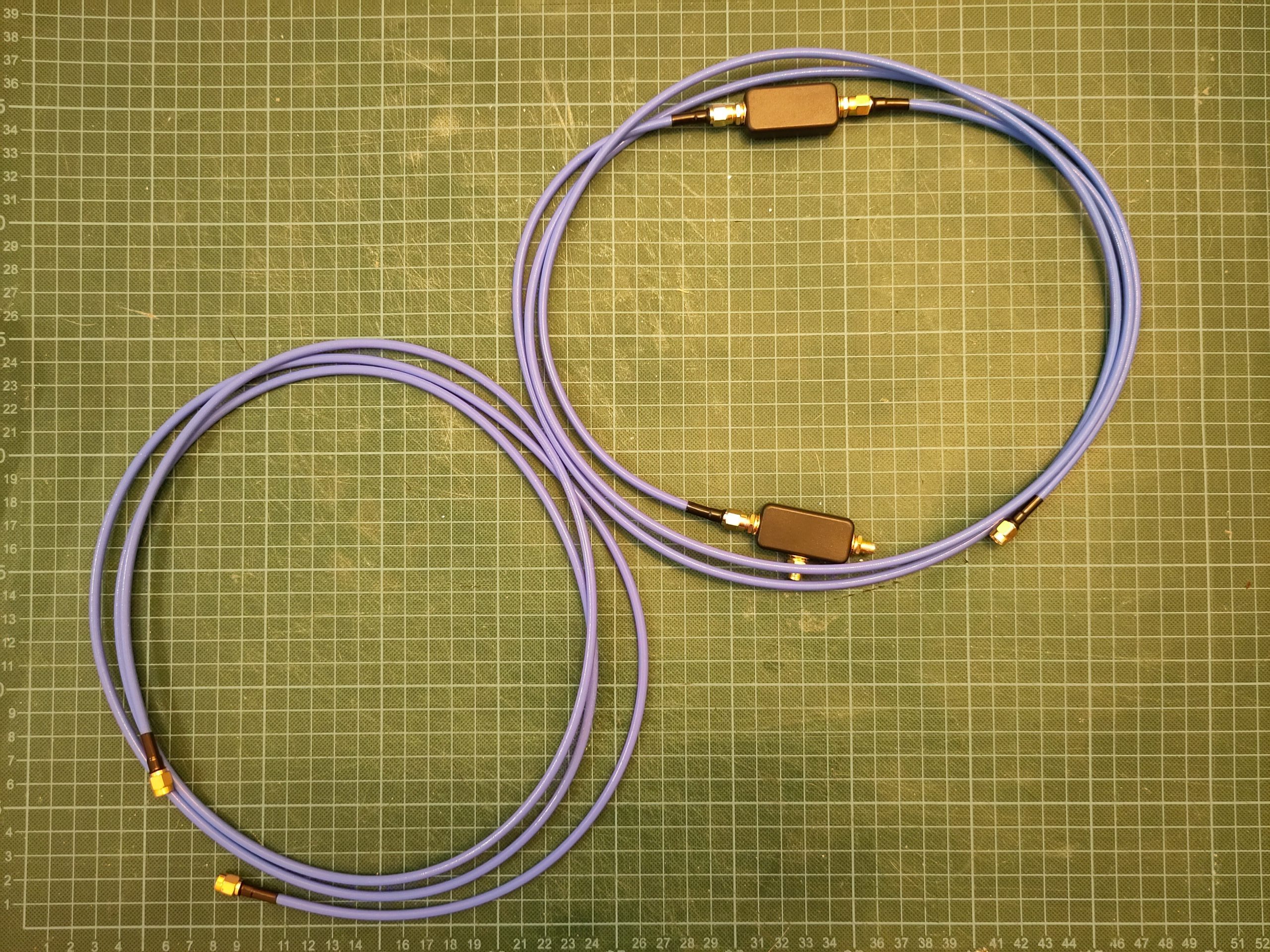 MegaLoop MLA-30+ active loop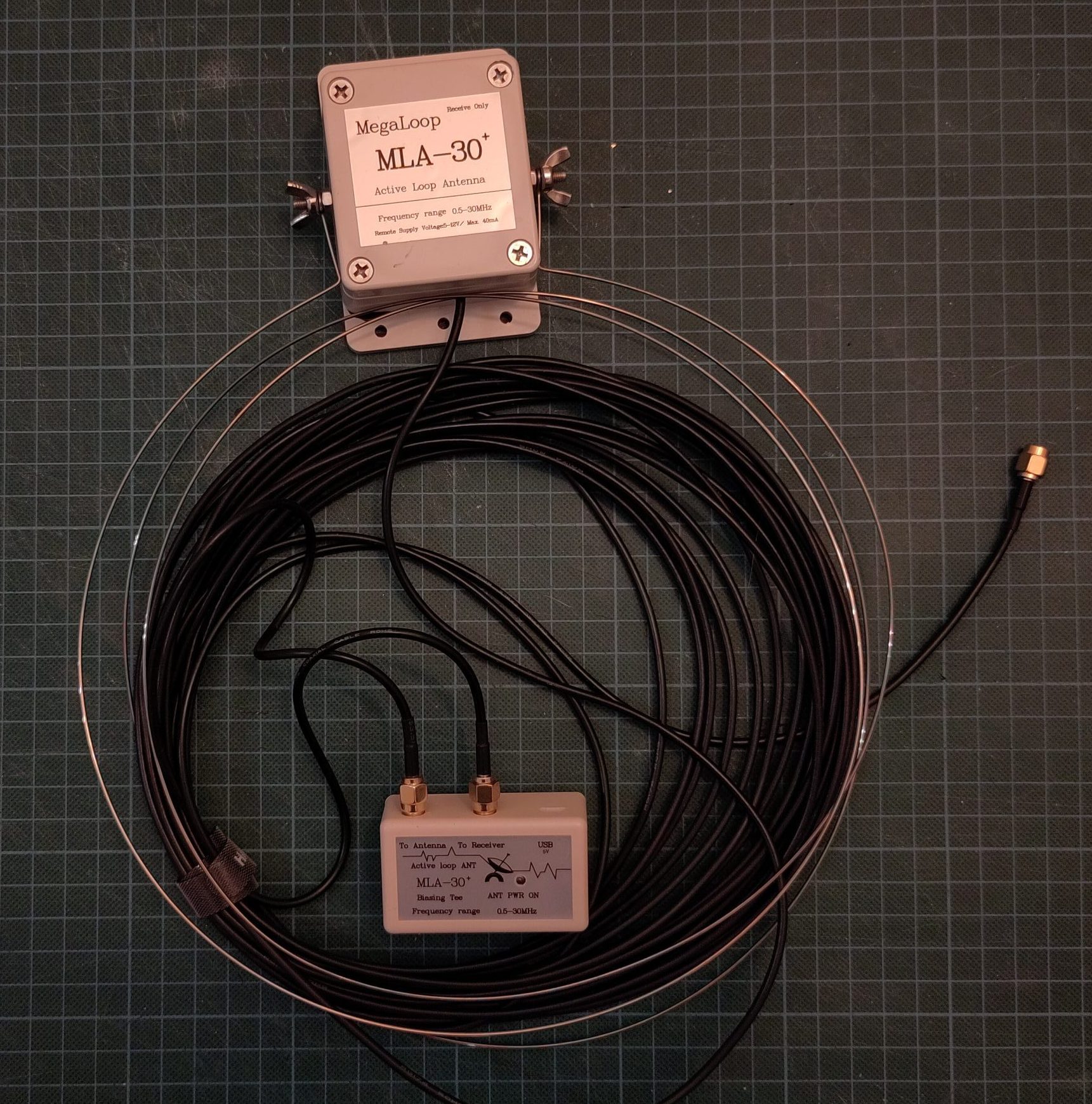 Electically short antennas
Following a design called MiniWhip by PA0RDT
Pre-assembled marked RA0SMS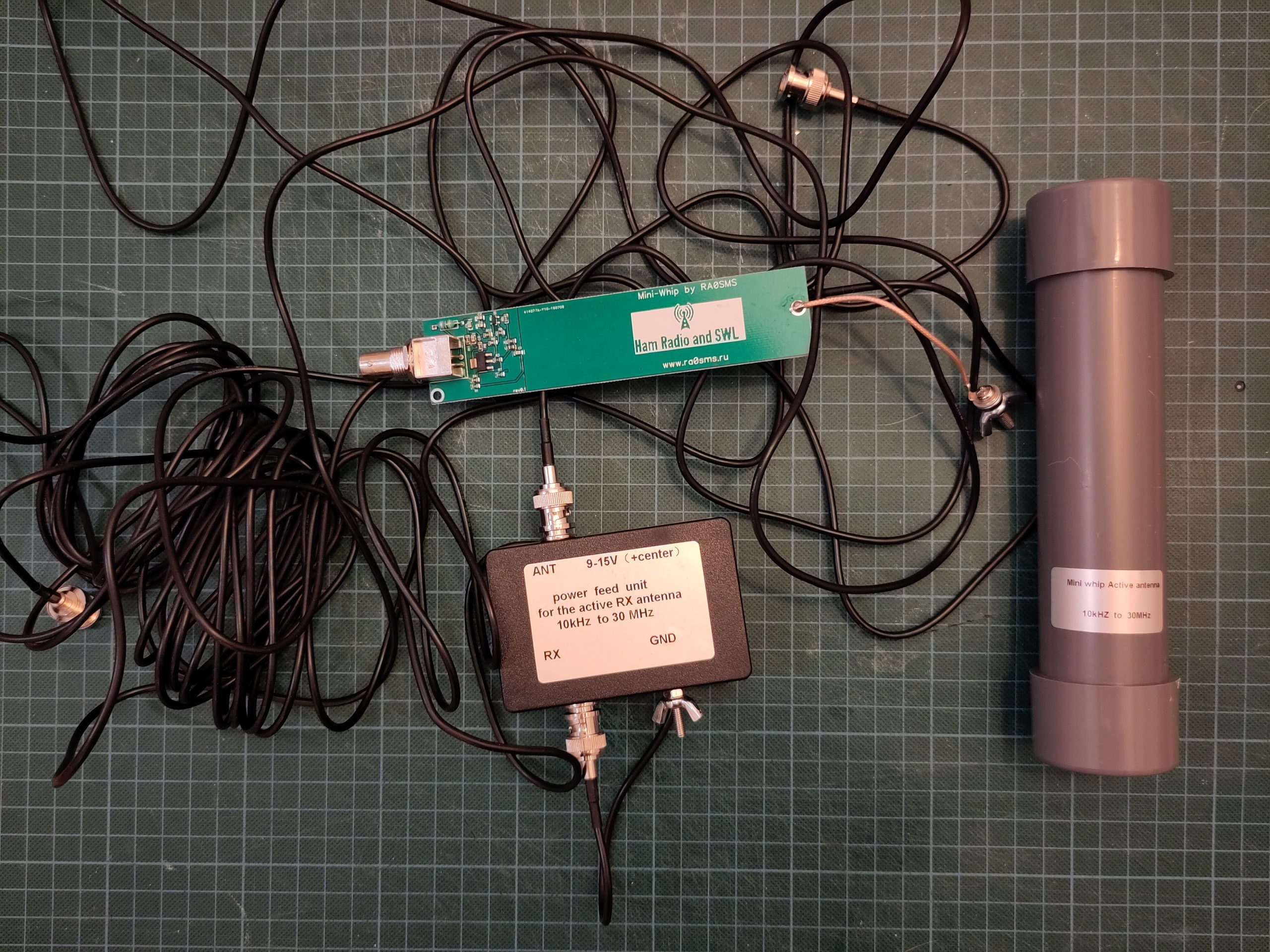 Kit version marked IP33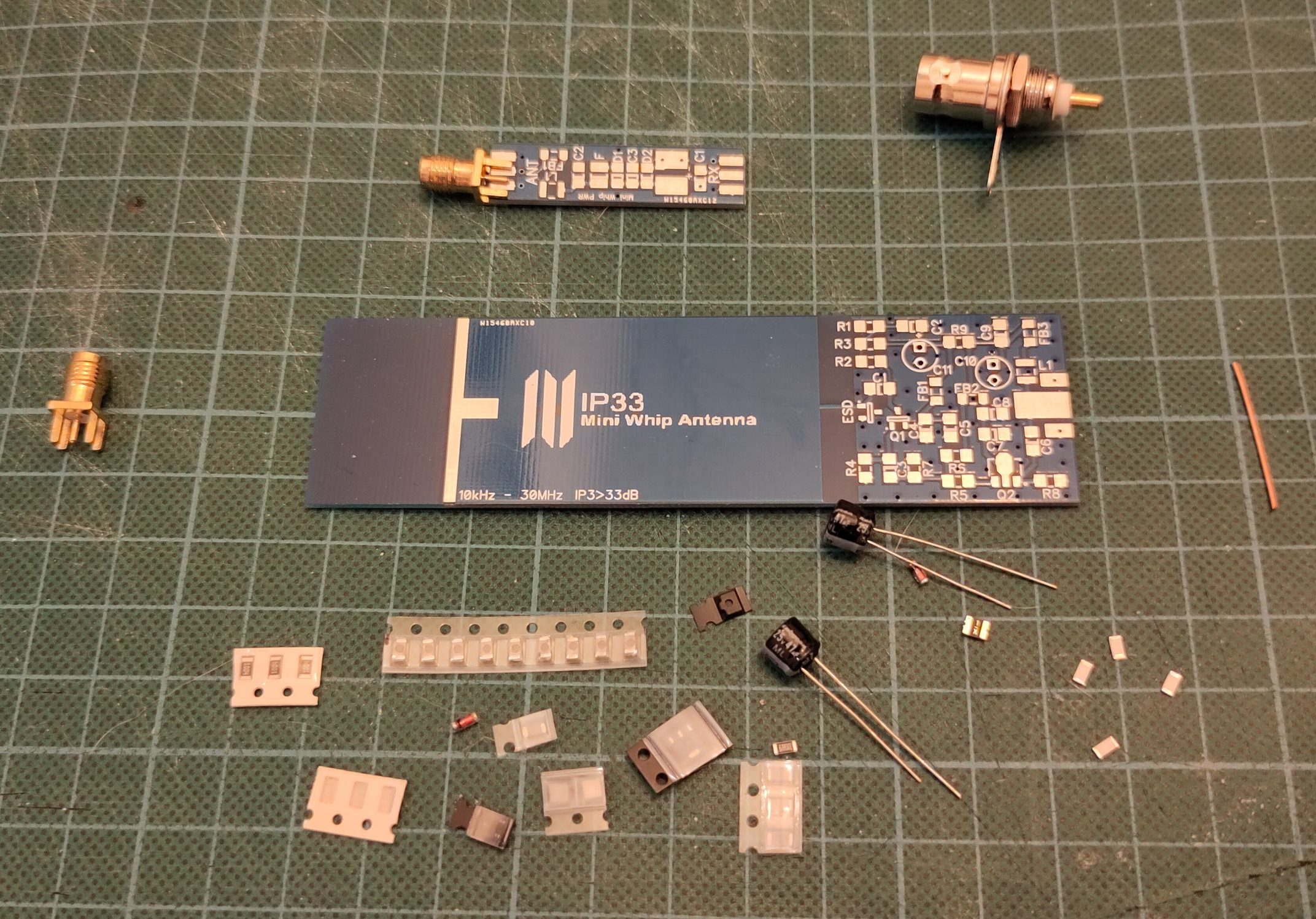 Dummy loads
QRPLabs 20W resistors, good for HF w/ BNC socket
Spinner 80W DC-3GHz w/ N jack
Spinner 400W DC-3GHz w/ 7/16 jack and variable 4 port coupler
some RF resistors, not integrated
attenuators 5W 40dB, 1W 5db,10dB, 20dB
3 port variable coupler N jacks